Cookies are wonderful and no matter which event you are celebrating, there is always a reason to bake them! Whether you are feeling low and weary or in the mood for something nice and refreshing, baking is always the solution to a heavy heart! And this occasion is all about cheering for the arrival of the new one! Baby showers are special and if you plan to head to your best friend's event or some close relative, baking baby shower cookies with your hands gives a special touch of warmth and affection. So let's get ready to prepare them!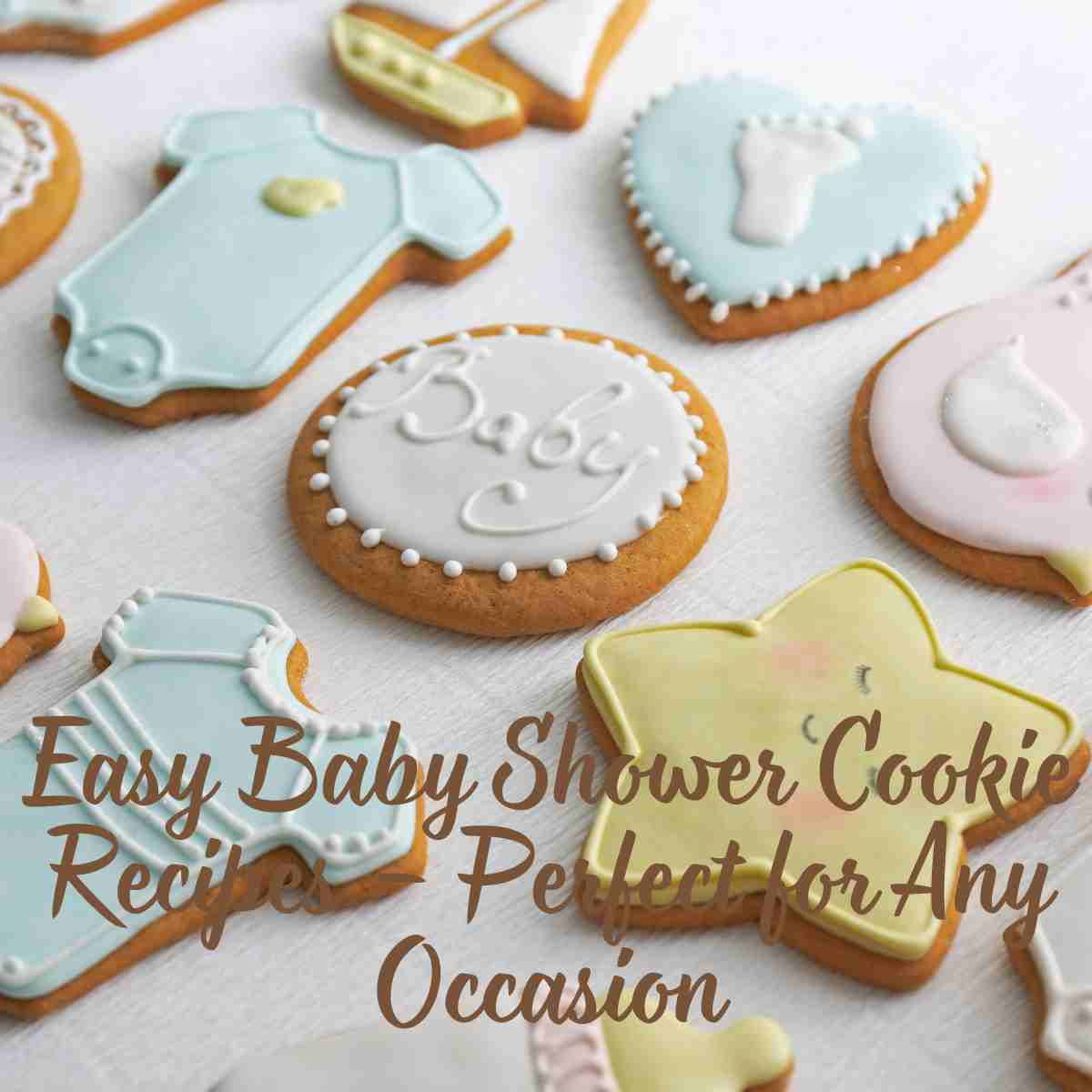 Tips for baking the best cookies in the world
Baking like we always say is very therapeutic and if you are in the mood for a yummy and fresh batch of cookies then here are some tips that you should follow!
1. Always make sure that all the ingredients are present at room temperature-
Whenever you are baking any sort of cookies, the ingredients have to be present at room temperature! This is because no cookies are made cold! If you want them to turn out successful make sure that the eggs, butter, and so on are present at room temperature. For example, butter cannot be blended cold and hard! You need to bring it to room temperature so it becomes a little soft and easier to smash. On the other hand, if we talk about eggs, they need to be present at room temperature so they can do their job well! The reason why we add eggs to cookie dough is so that the cookies when they are baked rise well and turn out to be fluffy! But cold eggs will simply not help at all.
2. Whoever said cookies can not be seasoned was absolutely wrong about it- if you thought that seasoning is only good for savory items then you are completely wrong! Not just for savory items but also for desserts too! Have you tasted salted caramel before? Or chocolate brownie with some salt! Then you must know what we are talking about. Hence it is essential for you to season not just your savory dishes but cookies as well! A pinch of salt always acts like pixie dust and casts its magic! So next time you are baking cookies, keep the salt handy with yourself.
3. Buy non-stick baking sheets- next time whenever you are baking then keep some baking sheets in hand as well! These are better alternatives to parchment papers! To be honest, baking sheets are not completely non-stick and hence they can turn soggy sometimes! Plus, they are one-time use! So what can you do about it? Use baking sheets instead! These are handy and you do not have to rush to the stores now and then in case a roll of parchment paper is over. Hence we will always recommend you use baking sheets instead! Nowadays bakers mostly opt for these instead of ordinary parchment papers which have several cons to be precise.
4. Upgrade from simple chocolate chips to more- whether you are making chocolate chip cookies or not, it is vital to have some sprinkles on top! From crushed chocolates to chunky pieces, the options are simply endless! And that should be something that must be portrayed by the cookies! More and more sprinkles and so on. Whatever looks good on your cookies and feels nice. Plus, it is a baby shower so we definitely encourage more vibrancy. Hence you can definitely fill the cookies with an endless amount of treats and so on.
5. Allow the cookie dough to chill before you bake- after laying the first batch of cookies for baking, you might observe that they are spreading too much on the tray! And hence you need the cookie dough to chill a bit! This happens because the cookie dough is still wet and as a result of which the cookies simply spread and do not acquire a shape. If you allow the dough to chill for a bit ( like one hour) then go ahead and bake your cookies well! This time the cookies will turn fine which can guarantee.
6. But not spreading at all is not good too-
Too much or too little spreading both are harmful to the cookies one can deal with. In case it is the latter then you simply need to bring out the cookie tray a couple of times while it is baking! Beat it on the kitchen rack and the cookies will spread themselves well! If you fail to make the cookies spread at all then the texture will be too dense and when you grab a bite, the cookies will be too chewy! Hence use this technique for sure.
7. Always experiment with the type of flour you use- cookies need to taste and feel good on the taste buds! Experiment with different kinds of flour so you are aware of your preference. This way you will be able to understand which flavor of flour suits you the best! Simultaneously,  it can also enhance the health benefits of the cookies as well. Flours can be of many varieties, from almond to chia and so on! The options here too are pretty endless giving you the scope to experiment with different kinds of them!
8. Always set the oven timer five minutes early- the oven timer needs to be set at least five minutes prior to what is mentioned in the recipe or the cookbook! Do you know why? Well, the configuration of the ovens is not the same, and this way you might end up burning or overbaking the cookies sometimes. Always as a precautionary measure, set the oven timer five minutes earlier than what is mentioned. This way you can check for the doneness of the cookies! If they are baked then good for you! If not then you can put them back into the oven to bake for another couple of minutes.
9. What to do if the cookies are stuck to the tray- it might happen that you observe that the cookies are sticking to the tray! So what can you do to remove them from the tray with ease? You can pop the cookies back into the oven for another couple of seconds and use a thin spatula to remove the cookies from the plate! This is an effective measure instead of scratching and poking the cookies on the tray with futile results.
Here are some baby shower cookie recipes that you must try out!
Easy Baby Shower Cookie Recipes: Delicious Treats for an Unforgettable Event
The delicious and gooey Fudgy cappuccino cookies are simply the best! Packed with great flavors, the guests will definitely praise the idea of the freshly baked served along with other appetizers on the table.
Recipes like these will simply leave you with a sense of contentment and delight in every bite. Smooth, crumbly, and rich, the cookies will melt in a single bite and will be so hard to resist. So what are you waiting for?
The combination of strawberry and white chocolate chips is a match made in heaven if we are asked to describe it! Smooth, rich, and luxurious, these cookies are lovely and render one with a sense of temptation for more and more.
The baby bottle cookies are simply so unique and adorable at the same time! Easy to make and so simple to prepare, the Baby bottle cookies are brilliant and packed with great flavors. The rich icing on top renders one simply speechless.
Cookies shaped like candies are so amazing! In fact, we are so confused! Whether these are the cookies that look cute or the candies that tempt us! Well, you need to try and find out for yourself! Go ahead if you have an invitation lined up!
The old-fashioned tea cookies are something that never fails to steal the show! Gorgeous and gooey, the rich cream sandwiched between the two cookies is so divine! You are definitely going to fall in love with the taste of it.
The gorgeous peanut butter cookies are indeed the most awesome thing that you will ever come across! If you are coming across pretzel cookies for the first time then we really do not know how you will resist having the whole plate once done.
If the baby shower event coincides with spring then there is no way you should miss out on this one! A scope to celebrate the arrival of spring as well as welcome the new member in the house.
If you are making strawberry shortcake cookies for the first time then here is some good news for you! There is no need for you to bake them at all! Yup, you heard it right!
The recipe for strawberry crinkle cookies is fabulous and packed with great taste. Dusted with sugar, there is nothing that stands parallel to the cookies. So without any more delay, you must get started with them already! Wish you luck!
If you are fond of baking cookies and your bestie is about to have her first baby shower then you must congratulate the mother with the Nutter butter cookies! These are indeed so adorable one will not be able to take their eyes off this one.
How adorable are these bear cookies! You must try them out as a present at the baby shower you are planning to attend this week! Gorgeous and gooey, these are simply the best to suit the mood of the occasion.
The thumbprint cookies are outstanding and packed with great flavors. Filled with jelly in the middle, these cookies are gorgeous and render one simply speechless. You must try them out this season and surprise everyone with the treat!
The crumble cotton candy cookies are another wonderful idea that you must indulge in this season! Packed with flavors so enriching, you are definitely going to be smitten by this one we can guarantee. Go for it right away!
The pink lemonade thumbprint cookies are another fantastic choice which we have to admit! Delicious and gooey, the cookies are best to be served as baby shower appetizers. So if you are planning to serve cookies as an appetizer, do give it a try for sure.
The zestful lemon cookies are exactly what you need! Rich and fancy, the cookies indeed live up to their name! There are frills and curls on the top done with icing which melt away in your mouth on the first bite.
The crumble chilled sugar cookies are wonderful and enriched with great flavors. The sugar cookies are lovely and render one with a sense of temptation and satisfaction too! So what are you waiting for?
The bear paw cookies are fascinating and we are sure you will definitely love this one too! Delectable and crumbly, the bear paw cookies are absolutely the best of the lot! For the ones who like chocolate with vanilla, we have found you something good!
You will not believe how easy it is to make sugar cookies! The recipe is simple and hardly requires any effort! The rich cream is iced between the crumbs and tastes so marvelous indeed. Shall we try it then?
The vibrant batch of pastel-shaded cookies is indeed so easy to make! The flavor of mint is refreshing no matter which season the occasion is celebrated. The richness of cream cheese is also palpable in every bite! Go for it already!
Frequently asked questions associated with making cookies for baby shower
1. What is the trick to making the best cookies?
Perhaps the trick to baking great cookies is following the instructions carefully and going through the recipe several times! You must follow the steps cautiously and not substitute any ingredient unless it is mentioned as an alternative.
2. Is there a way to prevent the cookies from spreading?
If you wish that the cookies should not spread then you must place the dough in the refrigerator for a while before you begin to bake! This will take about an hour or so during which the dough will toughen up and become firm.
3. How can you prevent your cookies from getting overbaked?
Overbaking or burnt cookies are often observed but you can prevent that from happening with the aid of setting the timer five minutes less than what is mentioned in the cookbook! This time you can check whether the cookies are properly baked and if not then pop it in for another few minutes or so.
4. Why should eggs not be allowed cold in the mixture?
Eggs are used in the cookie mix as a levitating agent but if they are presented cold then they will fail to make the cookies fluffy and flaky. Hence eggs should always be brought at room temperature! In case you forgot, no worries! Dip the eggs in a bowl of lukewarm water for a few minutes and that will do the job.
Bottom Line:
To summarize, baby shower cookie recipes can be simple, delicious, and unique. You can choose from a range of baked goods, such as sugar cookies, cutouts, and brownies. Try making your own fun and creative designs or embrace classic favorites that all your guests will love. With a few basic ingredients and a bit of time, you can easily whip up amazing treats perfect for any occasion. And as you make them remember, baking is a chance to have fun and show your love for the soon-to-be mother.
As Mark Twain said, "The best way to cheer yourself up is to try to cheer somebody else up." Whether it's for a special event or just for a sweet surprise, use these baby shower cookie recipes for your next gathering and put a smile on everyone's face.