Enjoy delicious and healthy anti-inflammatory smoothies that are packed with natural nutrients! Our easy-to-make recipes provide a simple and effective way to reduce inflammation and improve your health. Start your day with the power of these yummy smoothies today!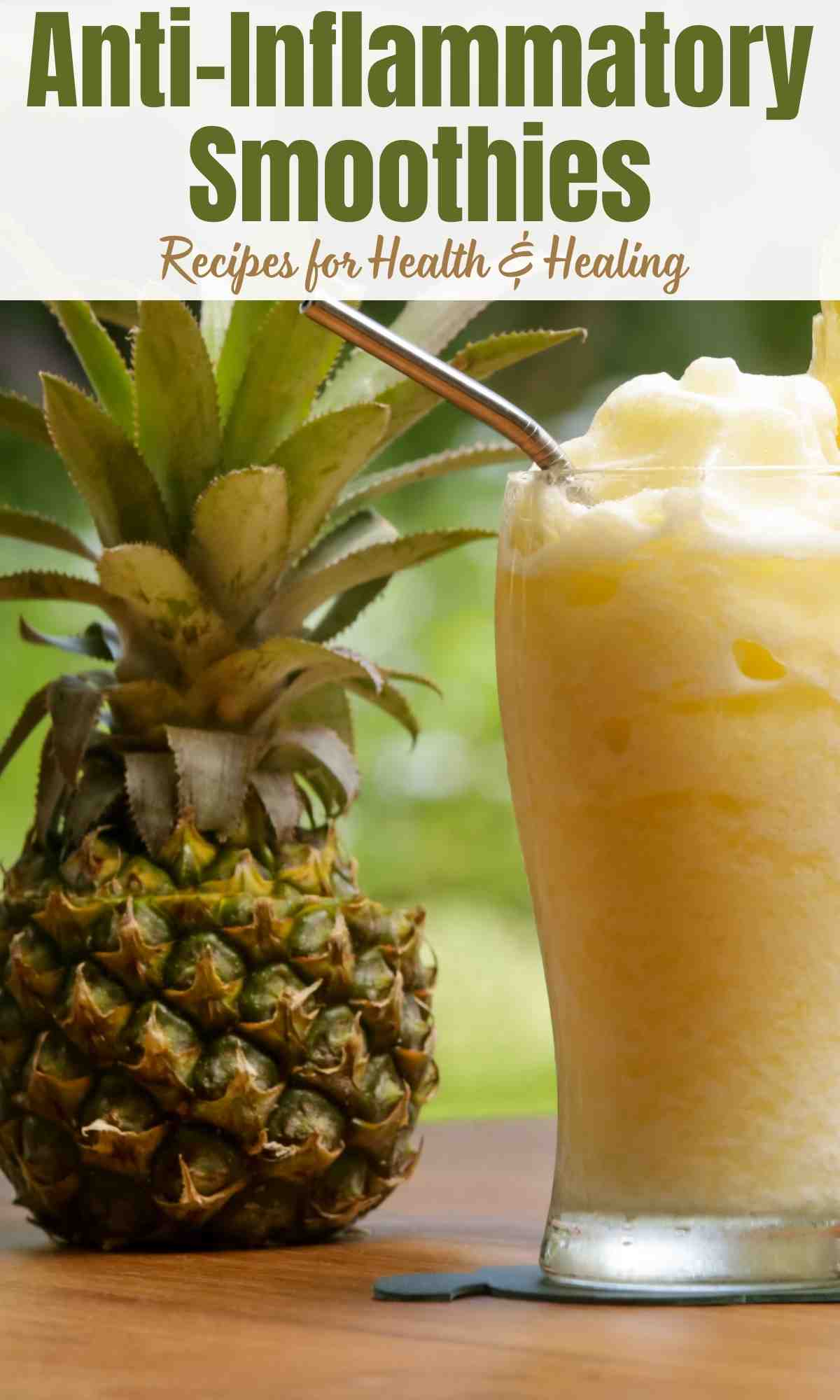 If you are fond of fruits and veggies but bored of the same way to consume them in salads then we can help you out here! You must have heard about smoothies! Whether you are dieting or not, there are several reasons why you should have smoothies! First of all, it is rich in all the nutrients and filling in between large meals. As we know, the time consumed to prepare them is also a lot less.
We will discuss smoothie recipes soon but before that let us find out about the benefits of drinking one.
Table of Contents
How does a smoothie help you in digestion?
Smoothie is a drink itself how can it help in digestion? Well, that is something you will be fascinated to learn! So read on to find out more. So next time you are having trouble with your tummy, a glass of smoothie can also help to soothe your digestive system. If you do not believe us, then you should experiment with one and find out.
It consists of fibers and roughages that certainly help a lot in digestion. Since the smoothie is present in a liquid state, your body does not have to do an extra job of breaking down the particles much as in the case of solid food. So you should start your day with a healthy breakfast smoothie and see how wonderfully your body functions and remains active the whole day without burps or a sense of fullness, bloating, and so on.
More collections: Tuna Steak Recipes, Indian Fish Recipes, Summer Mahi Mahi Recipes, Flounder Recipes, Thai Shrimp Recipes, Sea Bass Recipes, Trout Recipes, Snapper Recipes, Vitamix Smoothie Recipes
Are there antioxidants in smoothie?
As we already discussed, there are several benefits of having a smoothie, one of which includes the presence of antioxidants in your drink. So next time you are looking for a boost of antioxidants, do not forget to make yourself a glass of smoothie. Filled with natural antioxidants like vitamin A, smoothies are enriched in several nutrients!
The antioxidants help to fight and destroy the free radicals in the body thus reducing their concentration. You can add more berries, kiwi, and spinach to your smoothie to increase the concentration of antioxidants in your drink. Raw cocoa powder or kale are some other alternatives to give a boost of antioxidants in your drink.
Can smoothies aid in immunity?
If you weren't aware, smoothies can help boost your immunity and help you combat the sickness! As we all know fruits and vegetables are themselves natural immunity boosters so a drink made with greens will definitely help you grow stronger against diseases.
The presence of vitamins A and C especially are good for this purpose and must be included in your smoothie drink. Make sure that you use citrus fruits like lemon, oranges, strawberries, pineapple, and so on. Especially in the cold and flu season, a glass of smoothie every day can aid your immunity massively.
Can smoothies help to cure sleep disorders?
Are you having a sleep disorder and irregular sleep patterns? Might be the lack of melatonin in your diet! To regulate your circadian rhythm properly, you should consume a glass of smoothie which has anti-sleep disorder properties. Melatonin helps in regulating the sleep cycle and the circadian clock of the body. Found in kiwi fruits, nut butter, and milk, you can make yourself a glass of smoothie with these ingredients and enjoy the sleep that you feel deprived of for so long.
How is smoothie beneficial for the skin?
If your skin looks pale and dull having lost the glow and freshness, then a glass of smoothie is something that you should include in your daily diet plan. The pigmentation in fruits helps you to rejuvenate your skin.
Wonderful anti-inflammatory smoothie recipes
The taste of this gorgeous anti-inflammatory smoothie is certainly going to make you drool!
Delectable and comforting, you can have them as a side with your breakfast and begin your day on a fresh note.
Did you know that the blueberry smoothie that you love has anti-inflammatory properties?
Well, now you do! Creamy, cozy, and flavorful, this one is simply the best. So what are you waiting for?
Now it is possible to get rid of all that is bad with the anti-inflammatory smoothie recipe that we have for you right here!
Green and refreshing, you will surely enjoy this one in every sip. Go for it already.
Most of us are already aware of the herbal properties of turmeric! Now it is time for you to add this to your smoothie along with sweet pineapple chunks and ginger essence. So what are you waiting for?
If you wish to begin your day on a refreshing and healthy note then here are four exclusive green smoothie recipes for you to relish!
Delicious, delightful, and juicy, the idea is splendid and you ought to make it and find out which one you like the most.
Being low on calories and also providing pain relief action, there is nothing much to describe about the smoothie but a divine potion.
Packed with the essence of berries, you ought to make this one.
Not just a wonderful experience for the taste buds but also beneficial to your body, joint pain, and chronic conditions are also taken care of with regular consumption of this smoothie.
Delicious, cozy, and ravishing, we can guarantee you will love the taste.
If you are curing from some chronic illness and wish to try out something nice and healthy then here is something wonderful for you to try out!
Delicious and rich, each of the three possesses healing properties.
Enjoy the tropical essence with the smoothie idea that we have for you exclusively on the list!
Apart from the beneficial properties it possesses, the tropical smoothie is simply mind-blowing in terms of refreshing flavors.
Make yourself this wonderful and gorgeous turmeric smoothie every day in the morning and notice the difference in a few days!
Relief from pain and instant effect, the idea is splendid and super easy to follow.
And did we mention that the ingredients needed are also just a few handfuls?
You have no idea how useful a glass of turmeric smoothie is every day to relieve all your pain!
It is indeed true and you must try it out. Delicious and ready in a few minutes, this is a must-have.
Delicious, savory, and rich in flavors so divine, you will be compelled to make this smoothie again and again!
Staying fit can get boring but smoothies are not medicines so you do not have to chug them down. Enjoy the taste of it.
Not one but so many to try out! Delectable, rich, and creamy, each of them will surprise you and leave you with the temptation to make a glass for yourself.
The pictures are indeed very compelling and persuasive for your eyes and taste buds.
If you want to keep it simple and yet flavorful, then here is a smoothie that you will love to begin your day with!
If you are dealing with chronic aches and pains, this is your one-stop solution.
Ah, here is another one that we are sure will comfort your taste buds! Make sure you continue to have this for a while to observe effective results.
Aren't we all aware of the healing properties of turmeric?
Here is another recipe for you to relish! The combination of banana and peach gives a brilliant taste to your smoothie which is also beneficial to your health in so many ways.
So what are you waiting for?
To learn how to make the best anti-inflammatory smoothie, we can certainly help you out!
This recipe right here is your saviour and we can vouch for it. Delicious and healthy, all packed in one glass.
Do you wish to enjoy your green smoothie at its best? Well, then you have to go ahead with the anti-inflammatory smoothie that we have for you right here.
Delicious, creamy, and smooth, you ought to make this one at home.
The iconic duo of pineapple and ginger is mind-blowing and we can guarantee that you will be super impressed by the taste of the drink!
Needless to say, the smoothie has several health benefits as well. Shall we then?
We would like to end the list with this gorgeous and vibrant smoothie drink that is right here!
Refreshing and so attractive, even the pictures will make you crave the drink.
So what are you waiting for? Make it today and enjoy it to your fullest.