Andouille sausages are pretty simple yet they are the most luxurious of their kind. So this season if you are looking for something new to try out then here is an article that will be highly useful. If you haven't tried Andouille sausages yet then let us tell you, this time you are up for a treat. This smokey, cajun-style dish is a favorite among many and has been popularized around the world. Although it has a cajun reputation, the Andouille sausages to your surprise originated in France. If that was an intriguing piece of information for you then here is more. Read on.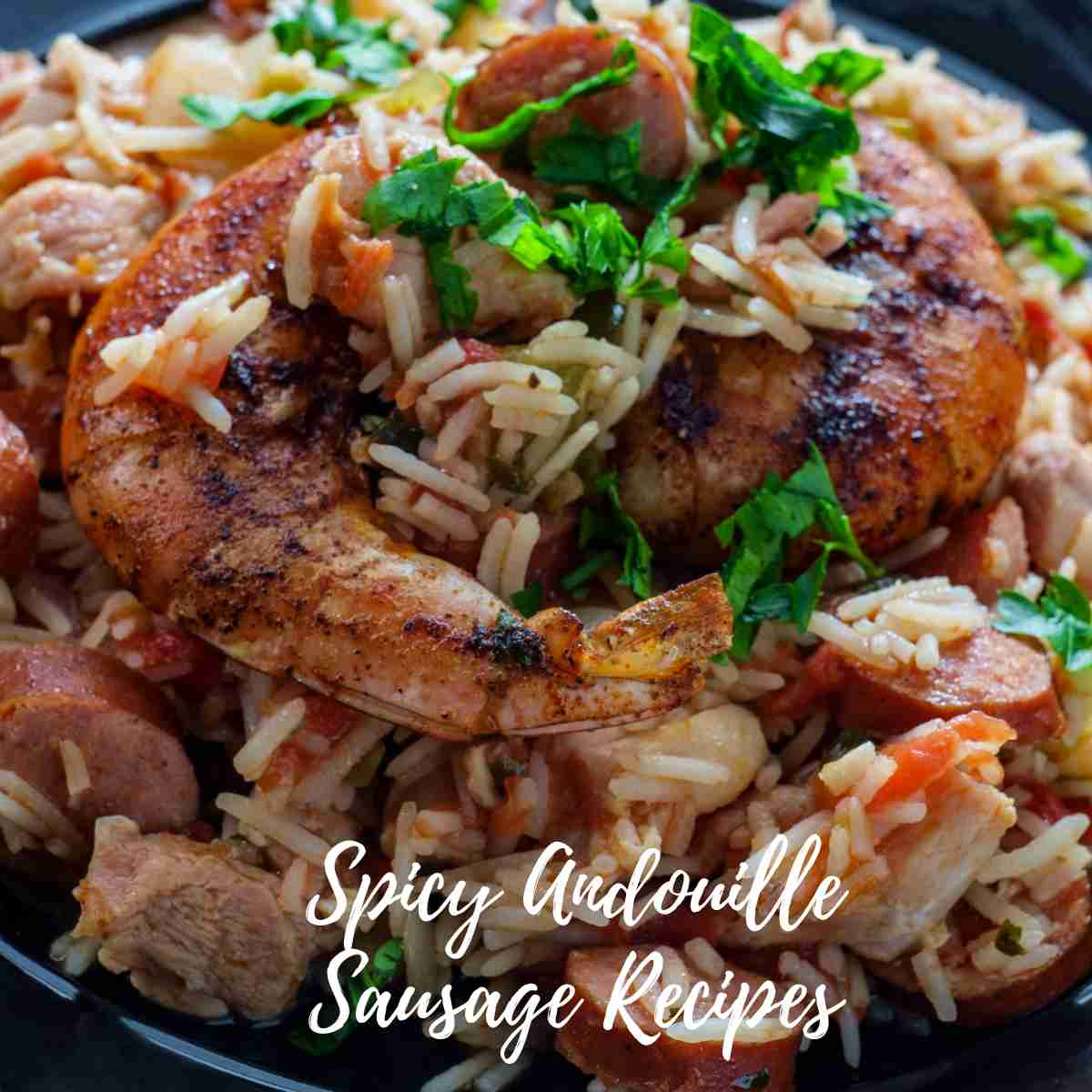 Definition of Andouille sausage?
The Andouille sausages were created in French! These are long stretches of sausages made from the digestive tract of a single pig. Further seasoning is done with diced onions, spices, and so on! The pig stomach and intestine are either made into strips or ground to acquire the shape and flavor of Andouille. The mixture is then packed in a casing made from the large intestine of the pig, poached, and allowed to cool down.
The Andouille sausages which you will find in the USA, are mostly made from the shoulder of the pig. Seasoned in the cajun style, these sell very well. Instead of poaching it is smoked twice.
Techniques to cook Andouille Sausage
If you are trying out Andouille sausage for the first time in your home then we can guarantee that this shall prove to be helpful. One thing must be noted andouille is pre-cooked so you can simply bring it out of the refrigerator, thaw and slice it into pieces! You can display it on a wooden meat board with other options and that's all that is needed.
However, you can also choose to bake or boil it! Processing the sausages always enhances the taste. If you are planning to bake then preheat the oven to o 350°F. You can use a sheet pan and bake for fifteen to twenty minutes! Allow the temperature while baking to be around 140°F. While if you choose to boil then ten minutes are enough.
Once you bake the sausages or boil them, you can add them to any dish you want, pasta, noodles, and so on. Cooked Andouille sausages taste smokey and delicious with sharp flavors.
What are the different types of Andouille sausages?
Several varieties of Andouille sausages are available in the market! The US is famous for selling the Cajun-style version. This variety is much bolder and spicier than the European version. The texture of the cajun-style Andouille sausages is soft as well. However, that does not mean the European version is any less good.
How do you store Andouille sausages?
You can keep the Andouille sausages in the original airtight packages in which they are sold! Or, you can even transfer it to an airtight container and keep it in the refrigerator. If you can freeze the sausages in a freezer bag then the Andouille sausages will stay fine for at least six months.
What is the origin of Andouille sausages?
France and Germany gave birth to the Andouille sausages! Both these countries have expertise in making sausages and hence the creation. Andouille shares its roots with Arcadians, Canadian immigrants of French origin, and also Creole. Hence it also carries the essence of West African, Spanish and Caribbean authenticity.
The Andouille sausages in America, as we learned, are made from pork butt! Oh, there is no need for you to freak out! It refers to the shoulder region of the pork. Hoegeer, if your spice tolerance level is low then you must not taste Andouille in America instead rush to Europe. This is because the Cajun-style Andouille sausages in America are packed with spices according to Cajun traditions. Let's find out about some of the recipes.
Delicious Andouille Sausage Recipes - Easy & Spicy Ideas for Every Meal
Why do you need to engage in making the main course and side dish differently when the rice skillet with sausage and pepper is right here?
Packed with proteins from smokey meat and sprinkled with herbs, your dish is ready!
What a lovely idea it is for spice lovers! We have, in fact, brought good news, pal!
The spicy jambalaya recipe with Andouille sausages and veggies is simply outstanding.
Make sure you try out this idea this week!
The Andouille sausages are tossed with sweet potatoes and sprouts to make it an overall healthy treat.
If you are trying this sausage for the first time then we can guarantee this recipe will make sure you fall in love with Andouille!
The pasta and sausages cooked in tangy tomato sauce and served with Pepper Jack cheese are indeed a wonderful idea!
Tossed with herbs like parsley and a hint of paprika too if you want it to be spicy, the delicious meal for dinner is all set.
Tortellini soaked in cheese, chives, and tomatoes is the best thing that you will come across!
Served with sausages, there is absolutely no word of praise that can describe the brilliance of the dish.
There is no need for you to panic if you are yet to decide on dinner for tonight!
Of course, we will not permit you to order from the stores!
Here we have the recipe for cajun pasta with sausages which gets done so easily in a jiffy.
Plus, the presence of pepper makes it spicy too!
A combination of several types of meat in one dish renders it with the ultimate flavors of delight!
Make sure that your taste buds can relish the same.
It is time for you to follow the recipe and make it at home.
The specialty of New Orlean red onions and rice is the sausage that comes along with the meal!
The succulent meaty recipe with herbs and spices renders your taste buds with a sense of delight and pleasure.
The highly satisfying and crowd-pleasing recipe of Jambalaya is incomplete without the presence of sausages in them.
It is the andouille sausage that creates wonders in the taste buds.
The combination of pasta and sun-dried tomatoes has always been a super-duper hit and when you add some sausages to it, especially Andouille then all we can say is the taste is unparalleled.
Wholesome and filling, the slow cooker crock pot gumbo is simply extraordinary!
If you haven't seen magic before, you will feel it happen to your taste buds.
Try out this recipe for brunch on one fine day this week and let us know how it goes.
The creamy and spicy cajun potato soup has a surprise for you!
It also has chunks of Andouille sausages which makes the soup just the showstopper of the meal!
Everyone around the table will definitely ask for a second serving.
The recipe is cajun shrimp and sausage will surely cast a spell upon you!
If you find it hard to believe us then all you need to do is pick a day and try out this recipe for dinner.
There is truly something extraordinary about Cajun corn chowder!
The gooey broth and the chunk of meat in every bite, leave you craving more.
This is an excellent option if you are looking just for soup during the winter nights.
The lovely chicken and andouille sausages bursting with flavors render you with a sense of contentment after every bite.
The dish is simple and yet so gorgeous to prepare especially when there are guests for dinner.
At the cost of minimal effort, you can indeed enjoy something nice and spicy!
The sausage and shrimp boil in the Cajun style leaves you wondering if boiled dishes can taste so good!
So what are you waiting for? Try it today!
With the andouille sausage fried rice, you are going to thank us later for the idea!
Packed with eggs, veggies, and meat, all you need to do is toss them all together and enjoy them after a while.
Sizzling and saucy, the smoked sausage and baby sweet potatoes will be a temptation in every bite.
The recipe is super easy and you can make it without having to become an expert in cooking first.
The ones who find it hard to keep themselves away from andouille sausages will thank us for this idea.
The combination of grit and sausages tossed in spicy sauces appeals to us and so will all the spice lovers.
So shall we then?
We have a surprise for you in this recipe for cajun bean soup!
Packed with andouille sausages, you will hardly expect something so healthy to taste so divine as well!
Now it is time for you to find out. So let's go!
The delicious and smooth corn chowder with andouille is one of the most comforting broths that you can make on a pleasant winter night.
The presence of andouille sausages makes this dish such a delightful treat to the taste buds.
Incorporate more and more veggies into your soup to make your starters even more enriching and healthy!
However, if kids refuse to eat veggies then you can tempt them with the Andouille sausages floating in the broth!
See how they finish their bowl in a jiffy.
Make the most of the winter veggies with smoked sausages and Brussels sprouts.
Tossed with sweet potatoes and sausages, your side dish is ready to go with the main course. Give it a try!
So if you have decided to make pasta for dinner then look no further and give it a try!
Cooked with rich cream and spices like paprika, there is no way you should miss out on such an exotic dinner.
Casserole is the best option you have got when you wish to complete your meal with a single wholesome dish.
Gooey, creamy and flavorful, there are also andouille sausages which are chopped and added to the casserole.
Drizzled with cheese on top, the pasta and sausage duo is ideal to pack for lunch at work or enjoy a refreshing meal for dinner.
There are greens and white beans to enhance the nutritive value of the dish.
Crispy and flooded with toppings, the cajun nachos are served with chicken and sausages!
If you feel that a movie is incomplete without nachos then do give it a try for sure. And the best part is it hardly takes any time.
No wonder this is a great crowd-pleasing option! The sumptuous Italian sausage with spicy sauces and pepper is simply so irresistible.
With such a wonderful curry waiting for you at the table, we can guarantee the meal tonight will delight you.
Are you looking for a refreshing pasta recipe? Well, then there is nothing better than the sausage pasta bake!
What an exotic creation to tempt everyone around the table!
Especially if you are planning a date night with your partner at home, do give this one a try!
The combination of chives and tomatoes gives a sense of magic to the taste buds.
Andouille sausage tortellini skillet is packed with cream and served with herbs on top. Do give it a try!
Creamy cajun pasta with andouille sausage is loaded with cheese, chicken, and andouille to your heart's content.
Enriched with herbs, this is a wonderful idea that you should prepare for a romantic date night.
Frequently asked questions associated with making andouille sausages
1. What is so special about Andouille sausages?
Andouille sausages are created with the ground intestine and stomach of the pig! It is further seasoned with spices and veggies, to enhance the taste.
2. Why is Andouille sausage called so?
Andouille sausage is so called because of the cajun origin of the sausages! However, it originally was created in France first.
3. Is Andouille sausage sweet or spicy?
The traditional Andouille sausage from Europe has a mild taste however the American, Cajun version is way spicy and hot.
4. Can you eat andouille sausages raw?
Andouille sausage is precooked and you can enjoy it as salad! Or, you can toss and pan-fry it with other ingredients as well.
5. What is the texture of andouille sausages?
Andouille sausages are chewy and meaty in texture flooded with the presence of seasoning like pepper, salt, and so on.
Bottom Line- So now that we have collected so many andouille sausage recipes for you, waste not a single second more and get started. If this is your first time cooking andouille at home then you will thank us later for the guidance! We are always ready to mentor! Good luck!