You simply can not begin your day without breakfast! And like experts say, you should never skip breakfast either! Imagine your stomach has been empty and digesting the dinner from last night for over six to eight hours and right in the morning you have to grab a wholesome breakfast so you feel energized again! This is the hour of the day when we have the maximum potential for digestion in fact! If you are not serious about your breakfast then here are some facts and recipes for American breakfast which will make you consider otherwise.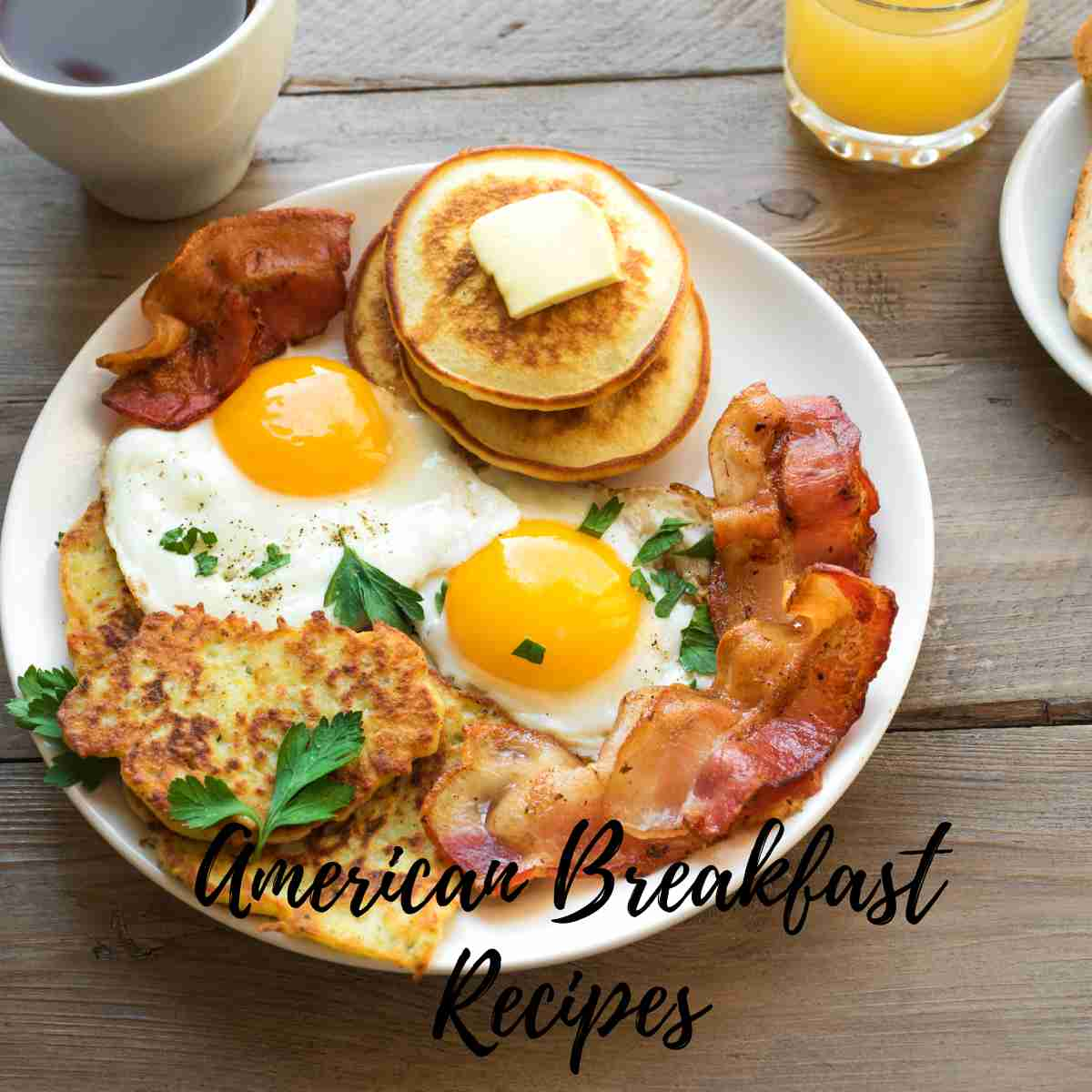 Some fun facts about breakfast you didn't know
The literal translation of breakfast refers to breaking a fast that you have been observing over the night.
It is the first meal of the day that we consume before beginning work and you will be intrigued to find out that February is observed as World Breakfast Month!
The first breakfast cereal was made in 1863! Can you imagine that it needed to be soaked overnight to turn them soft and chewable?
The world's largest breakfast on record involved 27,854 people and took place in Germany on 29 May 2005.
And yet in the USA, about 58% of the population skip breakfast in the morning! This is the highest court for skipped meals.
A brief history of American Breakfast -
Over the period, breakfast seems to have gained as well as lost its importance among American folks! This can be attributed to several factors like a busy schedule, lack of time, ignorance about the importance of breakfast, societal norms, and so on.
The concept of breakfast was first seen among the Egyptian population! The peasants would begin their day with beer, bread, and onions! This would keep them full throughout the day at work before they got to eat again at the end of it.
Again during the Middle Ages breakfast was unpopular and only the sick, old, children and working men were allowed to eat during the morning by the Catholic Church. The term originated in Europe during the 15th century but was not famous until the 16th century.
When did bacon and eggs become breakfast in America?
The pairing of bacon and eggs was done by the founding father of psychoanalysis, Sigmund Freud. Later his nephew Edward Bernays also contributed to bacon and eggs coming together as breakfast in America! Around the 1920s, Americans still ate light breakfasts such as juice, rolls, and so on. To increase the sale of Bacon, Barney wrote to 5000 physicians asking them whether heavy breakfasts are beneficial or not. Mostly everyone agreed that after a night of emptiness, a heavy breakfast is ideal in the morning which was published in newspapers across America.
What are some of the common breakfasts around the world-
Japan is famous for serving miso soup, rice, and fish for breakfast before anyone heads out for work. There is even green tea to accompany the wholesome meal.
Across India, the type of breakfast varies greatly! This generally includes roti, dosa, spiced potatoes, or various chutneys.
You will observe in the Nordic countries that breakfast mainly consists of faced sandwiches for breakfast with cold meats, fish, cheese, or vegetables. In Africa on the other hand, Shakshuka is served for breakfast which is also common in Middle Eastern regions of Asia. It comprises eggs poached in a tomato sauce and is typically served with a warm pita or naan.
What is the type of breakfast served in America?
The different types of breakfast in America include -
1. Continental breakfast- the continental breakfast consists of three courses- the first course consists of chilled fruit juices of a plea, mango, and so on! The second course is made of toast or breakfast rolls served with jam, jelly, or honey. The third course consists mainly of tea!
2. The classic American breakfast- the American breakfast is made of five courses and is quite heavy and elaborate. The first course is as usual made up of fruit juices and the second course consists of cereals with milk. There are egg recipes in the third course and toast for the fourth. Fifth and the final course consists of tea or coffee!
3. English breakfast- English breakfast is also quite common in America ever since the English immigrants showed up! The first course in the English meal is made with the former Continental and American breakfast! Fruit juices are served but in the second course, chopped fresh fruits are also included in the meal. Depending on the season this may include papaya, apples, watermelon, and so on. Stewed fruits flavored with cinnamon and cloves are served as the third course in a cocktail glass with dessert spoons. The fourth course consists of cereals in milk.
Discover Delicious American Breakfast Recipes for Every Occasion
Whether you are late for breakfast or early for lunch, the brunch special Chorizo platter is the best! Packed with bell pepper, sweet potatoes, and onions, the recipe is outstanding to describe in a word.
Garnished with salsa, the breakfast chorizo is ready in a jiffy.
If you have an early morning tomorrow then you should indulge in a wholesome dose of potatoes and eggs with the classic American sandwich recipe that we have for you here!
You should make the breakfast special if you wish the whole day goes well!
Here we have the creamy and cheese grits served with crumbled sausages and eggs!
The recipe is filling and yummy so the entire family can feast on grits before they catch up with the day!
Filled with the goodness of avocado, onions, and Russet potatoes, the cowboy breakfast bowl is ideal for the season!
The hearty breakfast with eggs tossed in hot sauce is right here so you begin your day on a great note.
Here is a classic American recipe that you will simply be thrilled to relish!
There are loads of avocado, cilantro, and cherry tomatoes with Colby Jack cheese that renders the scrambled eggs with their authentic southern flavor.
If you are in the mood for something unique and enriching then you should not miss out on the Satsuma breakfast combo!
Filled with andouille, sausage, and eggs, the recipe is simply out of this world.
Are you ready to experience its divine taste?
There is nothing as brilliant as beginning your day with a hint of sweet and syrupy delight!
Here are the fluffy and sugary breakfast pancakes that Americans will never miss out on making on Sundays or lazy holidays. Do give it a try!
Make breakfast exciting with the sausage and egg breakfast slider recipe!
Succulent and cheesy, the sliders are filling for a long time so you feel energized till lunch! It is also drizzled with a hint of maple syrup!
If you are looking for something a little more stylish to serve for breakfast then make your home date special by presenting your partner with the spaghetti carbonara first thing in the morning.
Sprinkled with herbs, they look so tempting indeed.
Make the breakfast healthy and savory at the same time with the sheet pan recipe of chicken with broccoli and chickpeas!
Drizzled with parmesan cheese, the dish is ready to leave an everlasting impact on the taste buds.
These open breakfast sandwiches are small and light so you do not feel bloated while leaving for work!
The fantastic combination of avocado, bacon, cheese, and egg, renders one with a sense of contentment in every bite we must say!
Cooked in tortilla shells, the center is filled with the wondrous presence of scrambled eggs, cheese, and bacon!
If you are a fan of wraps then make this one for tomorrow's breakfast and witness the smiley faces around the table.
We have brought you the recipe for loaded scrambled eggs which is so much more than the simple ordinary scrambled eggs!
There are bacon, cheese, and eggs, what more do you need?
But don't forget to add veggies to it too!
The adorable bacon and egg toast cups are fabulous and flooded with gooey cheese.
The layer of bread, bacon, and cheese makes the dish simply so irresistible!
You do not have to believe in our words and find out on your own.
If you wish to invest in something that is nice and healthy then begin your day with the classic oatmeal and eggs!
These are so easy to make that you will simply not feel the need to wake up early to make an elaborate breakfast.
Here is a unique choice of recipe which we are sure you will fall in love with after the first bite.
The gorgeous Irish breakfast nachos are crispy and loaded with flavors so divine.
Summers are much better with the presence of the Vegetarian English breakfast on the table!
Packed with toast and beans, the recipe is exotic and you should give it a try!
Served with scrambled eggs, you are ready for the day!
Don't worry if you haven't prepared anything for the next day!
Here comes the all-amazing American breakfast platter filled with jelly on the toast and sausages with eggs on the side.
There are waffles to your delight too!
We have the recipe for egg hole with bacon that tastes so good! Sweet and spicy chipotle sauce floods the sandwiches and makes the recipe so out of the world.
There is a hint of maple syrup and tangy guacamole to do the job.
Flavored with onions, pepper, and hash brown, the recipe is perfect for kids as well as adults!
The soothing mild taste of the filling in the frittata and the tender topping is excellent in a word.
Lovely cheesy and egg treat for the season!
The savory and rich Filipino breakfast is perfect and will simply sway you off your feet!
The combination of rice and scrambled eggs with loads of taste simply leaves you craving more and more. Shall we try it then?
If it is summer and you wish to begin your day with something sweet and savory then the German pancakes are the best option.
Flavored with sugar dust, the smooth butter essence tastes so divine that you will hardly be able to resist after the first bite.
Do you have some tortillas left from last night then you must make the breakfast tacos in the morning!
Packed with beans, guacamole, bacon, and cilantro, you will be left with the urge to try more after the first bite.
Scrambled tofu, beans, and potatoes, the full Ghanaian breakfast is ready in just a couple of minutes.
You should begin your day with a Full Ghanaian breakfast and see how wonderful your day goes! Shall we then?
There is nothing as lovely as beginning your day with the easy Poffertjes recipe!
The dish is best served with syrup or jam and renders you with a sense of temptation in every bite.
None will leave the table before the pancakes are over. Such is the temptation!
Ideal for a lazy breakfast on a Sunday morning, the Chorizo breakfast hash is so easy for you to make!
You can continue the breakfast for dinner too as a side dish to the meal!
With eggs, pepper, potatoes, and onions, the Farmer's breakfast bowl is pocket-friendly, ideal for the month's ends!
This gluten-free recipe comes to your aid even if you are on diet!
Topped with cheddar cheese, indulge in the dish right away!
Here is a Chinese-style dish where the scallion biscuits are served with char Siu gravy!
Here is a rich and decadent dish that you can enjoy with sprinkled onions.
Are you ready to indulge in its magnificent taste? Then dig in!
We have an awesome traditional Colombian breakfast which is packed with beans and rice!
There are also eggs, arepa, and chorizo which renders the dish with an outstanding flavor.
You can enjoy it with brown rice on the sides.
Making the breakfast pizza is so easy to prepare!
Flavored with bacon and potatoes, the breakfast pizza tastes so outstanding.
Topped with eggs and herbs, your dish is ready in no minute! Melting cheese on the crust tastes simply out of the world.
The fruit-filled fluffy American pancakes are super soft and something which will help you to begin your day on a fresh note.
Sprinkled with sugar dust, the pancakes are extraordinary and flooded with a sweet essence.
Don't waste a minute and prepare right away!
Bottom Line- Breakfast is super easy to make and yet a very systematic meal that you have to prepare so you can feel energized throughout! Breakfast from tomorrow will be the best time of the day with such a plethora of options waiting at your doorstep. Get started already!