Make mealtime easier and healthier with our air fryer recipes! Enjoy easy and delicious recipes that you can prepare with an air fryer. All of our recipes are heart-healthy and made with real, fresh ingredients. Try one today!
Air fryers are a very common appliance that you will encounter in every household these days! The main reason behind their widespread popularity is that you can cook in very little oil and the dishes are ready in no time. The short time consumption and the usage of minimal oil while cooking has contributed to their fame. There is a large fan that dries the food inside and gives it a crisp touch.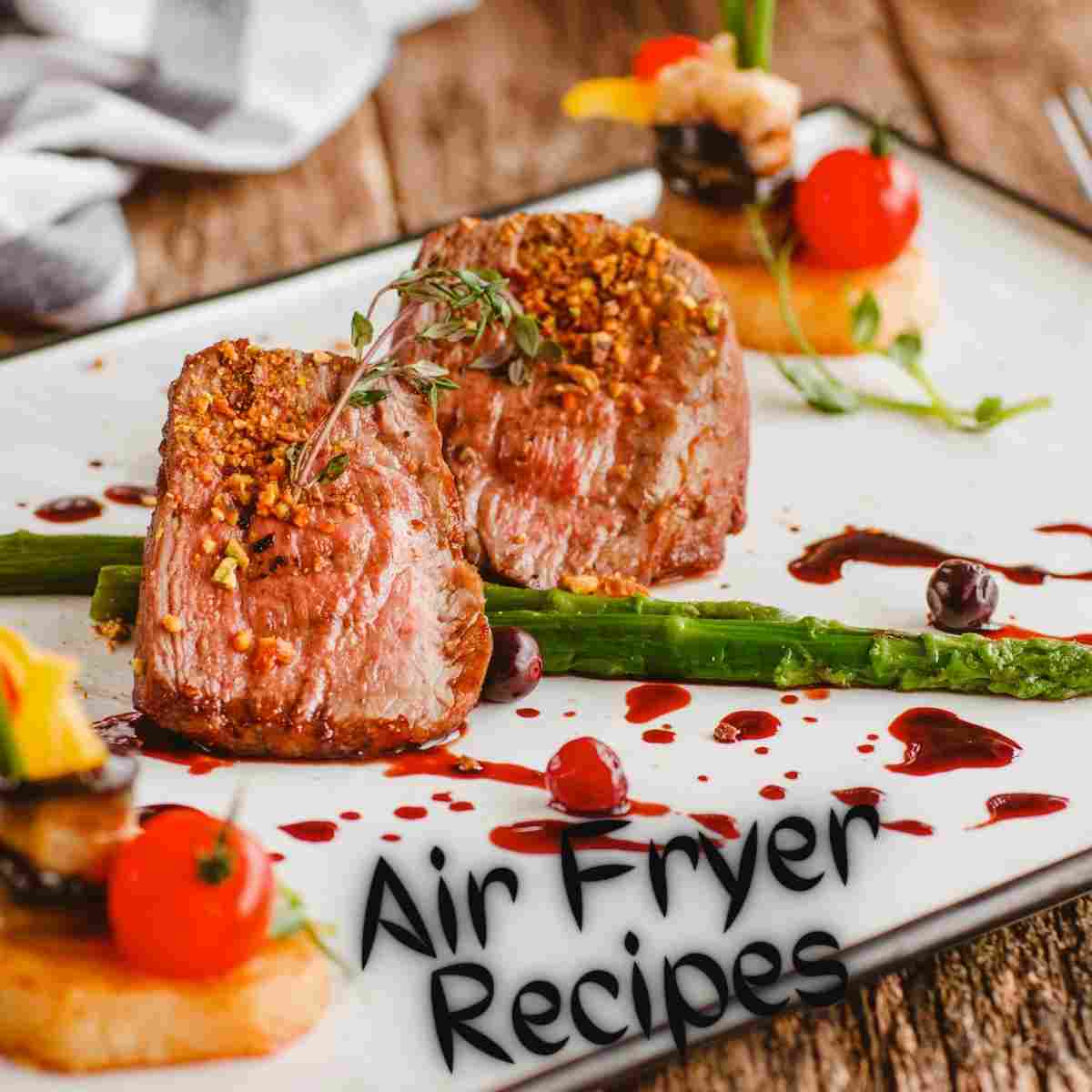 But that is not all that you need to know about air fryers because we have more for you to read, learn and understand! So go on!
General overview- if you are worried about cleaning so many appliances at home and bringing an air fryer is an additional task then here is some good news! The racks and the baskets of air fryers are so easy to clean in the dishwashers and in case your air fryer is not dishwasher-friendly then you can simply get a small brush and clean it by hand but rest assured it hardly takes any time.
Table of Contents
Is there a difference between an air fryer and a deep fryer or are they similar?
Yes, of course! An air fryer and a deep fryer are certainly very different! The air fryer functions at high temperatures with a high-power fan while in the case of the deep fryer, the mechanism is very different. You need lots of oil heated to a high temperature in which the food is fried in the case of the deep fryer.
However, they have a similarity as well! Both appliances are capable of cooking very fast but while a deep fryer needs a preheating time, no such duration is required for air fryers.
With very little oil, it is easy for you to cook in an air fryer as you can remain within diet plans and enjoy fried food.
However, there is a demerit to all! While battered food can cook well in the deep fryer, air fryers do not do justice to the battered recipes.
So, is it healthy to consume air-fried recipes?
Any air-fried dish will be crispy outside and juicy and soft inside! They have quite a similar taste to deep fried counterparts but the best concept is the lower usage of oil! If you wish to reduce your oil consumption then there is nothing as good as air-fried dishes.
1. What are some of the items that one can cook in an air fryer?
All sorts of packaged food- any sort of frozen food like meat French fries and nuggets can be cooked in the air fryer which requires very less amount of oil or none at all! Marinate with herbs and dry spices if you wish or simply place them in their original form in the air fryer and wait for a minute to enjoy your dish.
Lean cuts of meat- these lack fat on their surface and hence become too dry after cooking if you are not using oil! Make sure you take a brush and coat the surface of the meat with the oil! This requires only one to two teaspoons before you place it in the air fryer.
All kinds of veggies- veggies like broccoli florets, sweet potatoes, and so on need only a dash of salt and little oiling before they are sent into the air fryer and come out crisp and yummy.
2. Is it wise and affordable to invest in an air fryer?
If you are willing to invest in a healthy lifestyle then go ahead and get yourself an air fryer today! Why opt for deep oil frying when you can reduce the consumption rate of oil which is the safest option for your heart? Enjoy great food but in the right way! An air fryer is a baby step towards a healthy lifestyle!
Bought a new air fryer? Try out these air fryer recipes!
1. Air fryer tandoori chicken
You couldn't believe that tandoori chicken can be made in an air fryer! Marinated in rich spices and brushed with oil, get your chicken ready for tonight's appetizer. So shall we try it out then?
2. Air fryer vegetables
From broccoli to carrots, onions, and mushrooms! You name it and they are ready to be cooked in the air fryer and served fresh and crisp with the main course! The kids will never expect veggies to be so much yummy and fun to enjoy.
3. Air fryer roasted potatoes
Wish to reduce the overall calorific value and still enjoy your favorite veggie! Yes, we are talking about the air dryer roasted potatoes. Marination or without marination, they taste amazing with a crispy coat and juicy center.
4. Crispy cajun chicken wings
Delicious and tossed with enriching spices and a little dash of lemon, the crispy cajun chicken wings are perfect when you need to serve something crispy and delectable for an appetizer. Whether you cook them for a potluck or a family dinner, rest assured everyone will find them so irresistible.
5. The Best air fryer soy sauce chicken
It is quite surprising with such basic ingredients and just an air fryer you can come up with the soy sauce chicken! Rich and flavourful, these can even stand a chance against any restaurant-bought appetizer!
6. Air fryer crispy okra
Naturally, your child hates veggies! That is probably because you never made them try the crispy okras! Marinated in some warm spices, the air fryer crispy okra will turn out to be their new favorite! Do not be surprised if the kids ask you to make them again.
7. Air fryer chocolate chip cookies
Yes, you read it right! We have the amazing air fryer chocolate chip cookies right here for the winter! Now you no longer have to worry about getting exhausted baking batches of cookies for the season! The air fryer does the job in a jiffy.
8. Air fryer pizza bombs
Sounds quite intriguing right? Well, we have the air-fried pizza bombs which is a new experience for the taste buds indeed! Flavored with creamy mozzarella, oregano, and pepperoni, this is the perfect snack for the evening.
9. Chicken seekh kebabs
Cooked with warm Indian spices, everyone will certainly savor this dish as you present it during a weekend gathering. Serrano chiles give a hint of spiciness that you are surely going to find awesome.
10. Six minutes air fried shrimp
All you need are six minutes to prepare the air-fried shrimp cooked with spices so divine. The tender shrimp will melt in your mouth and you may serve it as a side dish with rice or noodles.
11. Ten minutes air fryer chicken sausage and veggies
Here is a complete gluten-free dish that you can enjoy as a healthy side to the main course! Brunch on this vibrant and crispy air fryer recipe with bell pepper and sliced sausages served with a dash of lemon.
12. Air fryer Asian glazed boneless chicken thigh
The enriching and luxurious Asian flavors embedded in the boneless chicken thighs will bring water to your mouth! Served with scallion and greens, you are about to find your next comfort recipe! Sprinkled with sesame, you may garnish it the same way too!
13. Air fryer sweet potato fries
If you find it hard to make your kids have veggies then simply offer them the absolutely divine sweet potato fries made in an air fryer! We can assure you that they will finish the complete bowl in a jiffy! If you are having some cravings in the middle of the day, satiate them with this crispy indulgence.
14. Six minutes blackened air fryer salmon bites
All you need is six minutes to enjoy the salmon! Yes, you heard it right! Forgot to make anything special for tonight's dinner date! No, there is no need for you to order as long as you have an air fryer at home.
15. Air fryer sesame cauliflower
The gorgeous sesame cauliflower is right here to sway you off your feet! Easy to make in an air fryer and the perfect combination of crispy and juicy will compel you to reach out for more and more. Tossed in honey and maple syrup, the recipe is outstanding as the guests will praise it after every bite. So make it quickly!
16. Low-fat crispy air fried onions
Watching a match with your family in the evening? Well, you certainly need something to munch on! We have low-fat crispy air-fried onions to accompany you during the session. Caramelized and garnished with herbs, thank us later for the idea.
17. Air fryer sesame chicken recipe
You no longer have to waste a full hour to get a bowl of sesame chicken recipe ready because, in an air fryer, they are ready in a jiffy! Saucy and garlicky, what a brilliant dish it is!
18. Air fryer fish and chips
Let us guess! You like to consume fish and chips but they are too oily for your diet! Do not worry because we have brought you the perfect recipe to make them in an air fryer with minimal or no oil at all!
19. Air fryer fried chicken
We know it looks tempting when you walk down the roads and the takeaways sell those juicy fried legs! But halt a moment because, with an air fryer at home, you can make exactly the same version of fried chicken but with no oil! Yes, that is true!
20. Air fryer grilled cheese
The delicious and crunchy toast served with cheese and veggies is the best option when you are looking for some evening snacks! Juicy and lip-smacking, we are absolutely in love with this healthy and cheesy option.
21. Air fryer lemon chicken
The zestful lemony essence in every bite of the chicken wings will leave you with a craving to enjoy more! It is no longer time-consuming to make more and more batches as long as you have an air fryer at home.
22. Air fryer blooming onion
It is the look of the blooming onions marinated in a crispy golden texture that will attract the guests more before they have a scope to grab a bite! Perfect to adorn the table with a central blooming appetizer for a family gathering.
23. Air fryer paneer tikka
The spicy paneer tikka which you were craving for a long time is not a hassle anymore to marinate and grill with an air fryer to save you time in the kitchen while you entertain the guests! Cooked in warm Indian spices and served with veggies, everyone should try out this one.
24. Air fryer chicken tikka
Served with veggies like bell pepper and onions, the air fryer chicken tikka is ready in twenty minutes! You can enjoy it with bread or a bowl of herbed rice.
25. Air fryer chicken fajitas
Yes, it is right! You can make air dryer chicken fajitas as well! Succulent and bursting with flavors, there is no longer a need for you to suppress your craving right before dinner! Prepare fajitas in a jiffy!
26. Air fryer zucchini fritters with corn and cheddar cheese
Perfect snack for the perfect evening with tea and a long conversation with your partner! Enjoy the juicy zucchini fritters with tender fillings made with luxurious cheddar cheese and served with ketchup. So shall we try it out then?
27. Air fryer French toast sticks
Easy and hassle-free, the flavourful and crunchy French toast sticks are light and crispy to accompany the sides! If you were too busy cooking the main course that you forgot to prepare any appetizers or sides then go ahead with this one.
28. Homemade onion rings
Prepare the homemade onion rings which you will not be able to distinguish from the ones you bought from the restaurant! That's how flawless these air-fried onion rings turn out to be! And guess what, the recipe is gluten-free too! So dig in!
Oh, so you have ordered pizza and forgot to get the garlic bread sticks? Or do you simply find the store-bought ones too blunt? Make the air fryer cheesy garlic bread at home and relish it till the last crumb.
30. Air fryer chicken kabobs
Chicken kabobs with bell pepper and tomatoes are right here to fill the guests and the family members on a weekend gathering! Make as much as you want as they hardly take much time.
Using an air fryer for the first time? Learn these tricks!
It does not matter if you are using an air fryer for the first time because we can guide you to perfect the skin on your first attempt-
Always hold the grate in the basket! This evenly helps to spread the heat around the basket and prevent the food from becoming soggy.
You have to adjust to the sound that the high-running fan will produce.
Shuffle the food from time to time so that each part turns equally brownish.
You can peek into the basket from time to time to check the dish! Do not worry about the machine shutting down in the middle if you do so! The air fryer stops once the dish is ready!
Push the basket in properly or else there will be no sound and you will be able to realize that cooking has halted.
Bottom Line- so that's how you work on air fryers! This is no rocket science as you can easily handle this appliance which will solve your problem in a short time! Enjoy some crispy and healthy dishes right away by bringing home an air fryer to your rescue.