If you have got an air fryer in the house half of your problems are solved! You can save up a lot of time in the kitchen by opting for air-fried dishes most of the time. If you find it tough to manage your air fryer then we have a complete guide for you! Wait, you have bought bacon and are considering making it in the air fryer! Perfect air fryer bacon idea indeed but how to make it if you are doing this for the first time?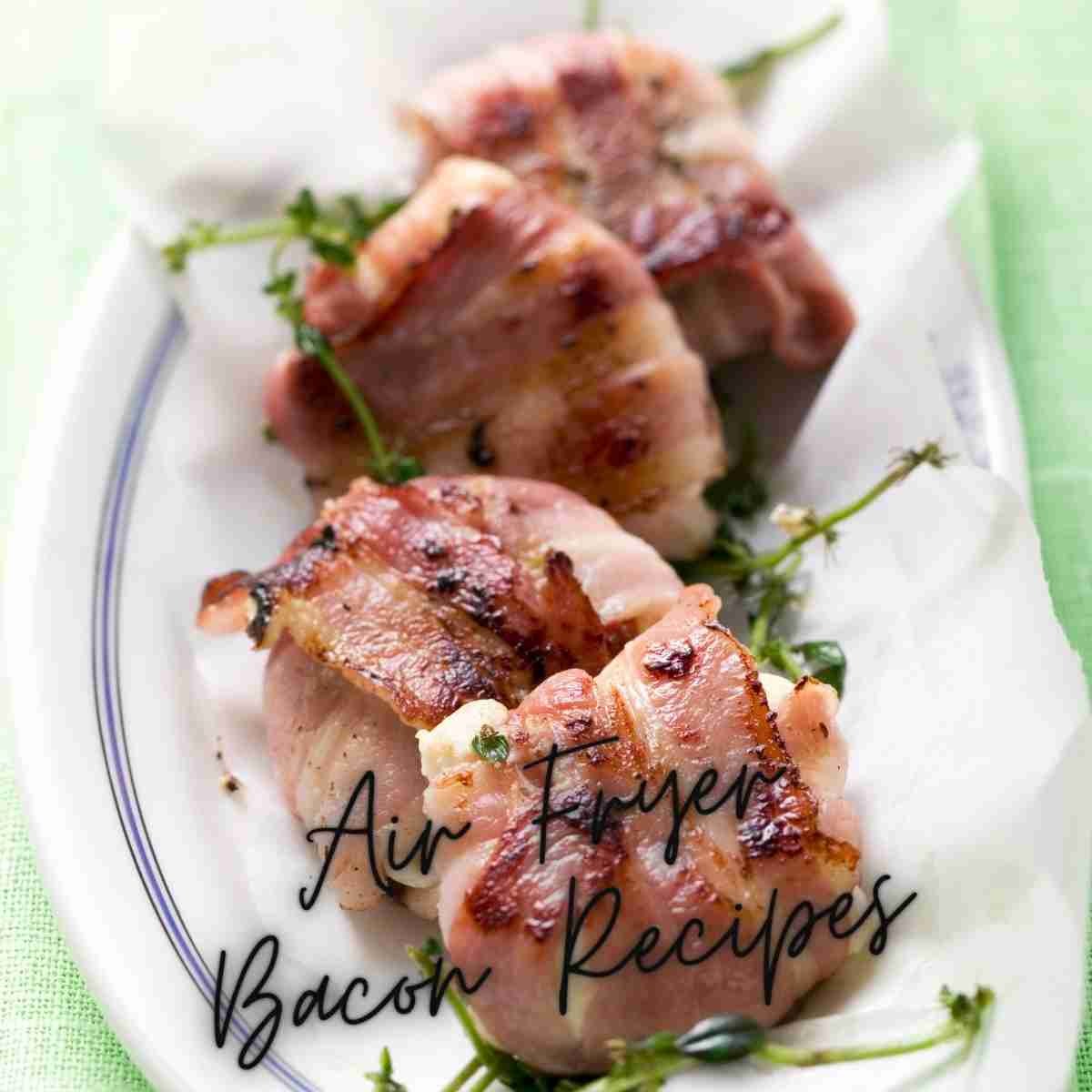 What are the benefits of making bacon in an air fryer?
We have made a list of benefits that you will encounter as you make bacon in an air fryer! Shall we find out?
An air fryer is an ideal way to cook bacon and acquire a crispy texture with minimum mess and effort.
All you need is eight to ten minutes to cook your bacon at 360°F.
If you wish to avoid excess smoke in the kitchen then place a little water or a slice of bread at the bottom of the air fryer.
Maybe you are craving crispy Bacon but at the same time, you do not want to deal with the mess it creates on the stovetop or have to preheat the oven earlier. Spending so much time cleaning is something that you wish to avoid and we can provide you with the best solution! Purchase and use an air fryer.
Cooking bacon in the air fryer is the best option as suggested by several cooks because the dry heat works wonders to give a crispy texture to the meat! Plus, there are more advantages to using an air fryer for bacon! Let's have a look at them, shall we?
Faster than baking in an oven- You should note that an air fryer needs to be preheated for one minute and the meat is cooked within five to seven minutes, that is all the time you need, unlike an oven.
Do not need monitoring- You have to flip the meat again and again in an oven so that the bacon is cooked uniformly! This is not the situation in the case of an air fryer where you can leave it inside the air fryer basket and cooking will be done on its own!
Creates less mess- After cooking in the oven, the grills and the racks are messed with grease and oil which is hard to clean when compared to an air fryer where the cleaning process is easy and simple. The oil does not even splatter as it would happen in the case of an oven.
Extra crispiness- The circulation of the hot air at high speed inside the air fryer makes the meat even more crispy and crunchy you will fall in love with the texture.
Less fat- The fat drips off from the basket while the bacon is cooked in the air fryer, unlike the oven where the meat sits on the fat. Hence cooking bacon in an air fryer is certainly more healthy!
Tips to cook bacon in an air fryer
Here are some tips that make it easier for you to cook in the air fryer if you haven't done it before!
Preheating at 360°F- you will be surprised to know that preheating in an air fryer only takes two to three minutes. As a result, the air is optimally heated to cook the meat evenly.
Arrange the bacon strips properly- when you are placing the bacon strips in the air fryer make sure that the strips are placed in a single layer and they do not overlap themselves! This prevents the air from circulating amidst the meat and reduces its crispiness.
You need to cook for six to eight minutes- six to ten minutes are enough for cooking the bacon. Check after ten minutes and then see if it is golden brown or if you need to cook for another minute. The longer you keep it in the air fryer the crispier it becomes.
Let's learn about some crispy bacon recipes in the air fryer!
Collection of bacon recipes made in the air fryer
If you are trying out the bacon for the first time in the air fryer then you are about to get smitten with the outcomes.
Seasoned with basic ingredients it yet tastes so gorgeous!
Do not forget to explore the crispy air fryer recipe that we have brought exclusively for you! Juicy and crispy at the same time!
Can you believe it? Make sure you enjoy it as a side dish with the main course.
3. Easy ten minutes air fryer crispy bacon fry
Get the smoky and greasy flavor all at once with the mouth-watering recipe of bacon in the air fryer!
Cooking bacon becomes so much easier with an air fryer at home!
And guess how much time you need to spare? Just ten minutes.
4. Air fryer twister bacon
The shape of bacon strips is their specialty! Try out this amazing recipe of twisted air-fried bacon which is only flavored with salt and yet so good to go as a snack!
Enjoy them while you watch a movie or binge on a show!
Do you wish to introduce more flavors to the air-fried bacon strips? Then you have to try out the creamy and sweet bacon air fryer recipe that is right here to your rescue.
Try out something unique with this recipe!
6. Air fryer bacon
Did we tell you that air fryer bacon is completely gluten-free and perfect for dieters?
Try out this recipe which is going to make your appetizer even more refreshing and crispy all at the same time.
Well, the bacon dish is rightly named as we will not think twice to exchange millions of dollars for a plate of this bacon fry made in the air fryers!
Are you ready to try out its exotic flavors?
8. Air-fried candied bacon
Are you in the mood for something sweet and meaty? Then you should give a try to the air-fried candied bacon which is the source of perfect bliss!
Do not be surprised if it is over in a minute!
Stock up to make more!
The air fryer bacon-wrapped Brussels sprouts are a fresh take on the bacon recipes that you can make on the device!
The smoky Brussels wrapped with meat is the perfect appetizer when you have a gathering in your place.
10. Air fryer bacon jalapeno popper
The bacon-stuffed jalapeno poppers topped with cheese are perhaps the only Sunday indulgence that we can think about right now!
Crispy and flavorful, these will make sure that you are not satiated with simply one. Shall we try it out then?
11. Easy air fryer cabbage with bacon and cheese
How delicious is this dish prepared with fresh green cabbage and bacon that tastes so exotic?
Flavourful and comforting, all you need to do is start your air fryer and cook a warm side dish for dinner in a few minutes.
Relish the air fryer bacon with onion, mustard, and ketchup!
Tell us later how everyone was impressed by this idea of junk for dinner which is not junk and feels like a casual indulgence on a weeknight.
Seasoned with garlic powder, pepper, and brown sugar, you will surely love the crispy and saucy pork belly bites!
Delectable and juicy, you can serve it with veggies on the sides.
So what are you waiting for? Make it today!
14. Air fryer bacon-wrapped pineapple
All you need are three ingredients to make the air fryer bacon-wrapped pineapple! Sweet as well as meaty!
What a lovely dish to explore this season! If you have unexpected guests at home and nothing much to serve, make this bacon!
15. Air fryer BBQ chicken wrapped in bacon
It only gets tastier and irresistible after every bite! Try out the all-new BBQ chicken-wrapped bacon recipe that we have got you!
Succulent and spicy, the perfect appetizer to begin the meal!
Shall we try it tonight?
16. Air-fried armadillo eggs
It becomes even more exciting and tempting to make bacon in the air fryer! We have come up with the armadillo eggs made with sausage and jalapeno wrapped in bacon, a recipe that we found to be amazing and you should explore it too!
17. Air-fried jalapeno popper hasselback chicken
Are you tired of making the same old bacon strips in the air fryer? It is time to give a try to the jalapeno popper hasselback chicken with bacon!
Loaded with tons of cheese, it is a must-try recipe!
Have to rush to work in the morning and have no time to make an elaborate breakfast?
Try out these double-layer bacon, egg, and cheese sandwiches which are ready in a couple of minutes!
19. Air fryer bacon-wrapped chicken breast
How about we say we have brought you the recipe to present only meat and meat on the table?
The chicken breast wrapped in bacon is sheer bliss for meat lovers! Include this recipe in your Sunday brunch for sure.
20. Bacon-wrapped pickle
The gorgeous bacon-wrapped pickle not only tastes good but looks like the ultimate pork treat on the table!
This is the perfect combination of sweet, sour, and savory that you can relish in every bite!
Easy to bake in an air fryer, the dish is ready in a couple of minutes.
21. Pork steak and shrimp kabobs
You want to make both pork and shrimp for the guests coming over tonight for dinner but there is hardly any time left for an appetizer!
What can be done? Prepare this detectable kabob recipe with steak and shrimp and veggies!
Since you are making it in the air fryer do not worry about the time and effort!
22. Cheeseburger egg and bacon rolls
Cheeseburger egg and bacon rolls are the ideal dish that you can carry to the table when you are having a weekend jamming session with your neighbors!
It will be very hard to say by looking at the dish the minimal effort and time that you have put behind.
So be ready to receive praises for this perfectly seasoned cheeseburger egg and bacon rolls as bite-size appetizers.
Do you think that the air fryer in the kitchen is lying idle for too long? It is time to dust it clean and make this fabulous bacon recipe that we have brought you!
The refreshing jalapeno poppers wrapped in bacon are the perfect dish to explore this weekend.
24. Air fryer pigs in the blanket of bacon
Pig wrapped in bacon is a unique concept that this recipe puts forth!
The succulent sausages are enveloped in bacon and cooked in an air fryer to come up with this dish!
Trust us this will be the first to get over.
25. Air fryer bacon-wrapped scallions
The air fryer bacon-wrapped scallions are a unique way to flavor your meat and add some distinguished taste to the table!
Marinated in cream cheese, this is indeed the best.
26. Egg, bacon, and toast in an air fryer
All you need to do is toss the bacon, toast, and eggs in the air fryer and allow them to get cooked on their own!
While you get prepared for work, the breakfast will be there on the table!
27. How to make bacon roses
Do you have a party in the house and you wish to earn the tag of best host in the neighborhood?
Then you have to try out the bacon roses which are not just an appealing way to present food but also the flavor of cumin, garlic, and ginger gives it an irresistible presence.
28. Air fryer bacon pineapple
Sweet and meaty, the combination of bacon and pineapple is the best idea that you will come across!
Make sure to try out this one at home!
29. Crispy air fryer bacon
How tempting is this recipe of air fryer bacon which you can make in a jiffy! Flavored with a dash of salt, these are the best snacks when you plan a movie date night with your partner.
Try out the bacon-wrapped asparagus to change your opinions about the green!
Even the kids will no longer complain about eating asparagus or veggies if you present them with bacon wrapping.
In fact, this will be the first thing to vanish from their plates.
Some quick tips to make the best bacon recipe in the air fryer-
Make sure that you are not overcrowding the basket in hurry! This might leave the bacon strips undercooked or not crispy enough.
The best way to handle the situation is to cut the bacon strips into half so you can easily fit them in the basket and each part gets cooked well.
Check once in a while to make sure that the bacon is getting air fried according to the way you eat! Different air fryer models have different styles of cooking so you have to watch out and customize according to your preferences.
Always pull up right before you feel that the crispiness is enough! This is because once they cool down they are going to become even more crunchy!
Bottom Line- So are you ready to make your own crispy bacon strips?